Reaper 2 Codes: Reaper 2 provides an immersive experience designed by Iconic Animation Productions for the Roblox platform. Based on the universe of Bleach, Reaper 2 is an RPG-style game that lets you take on quests and gain strength.
As you progress throughout the game, you'll be rewarded with points of skill that you can utilize in your skill tree to acquire more powerful, new abilities.
Reaper 2 coupons can be used to collect various rewards in-game. Some codes allow you to reroll races that will allow you to respawn with an entirely different race.
The codes can be revoked at any time, and you should make use of them while they're available. Bookmark this page to ensure you can quickly check back for any new codes.
All Roblox Reaper 2 Codes
Working Codes
RESETPOINTS1: Reset your character (New)
RESETPOINTS2: Reset your character (New)
RESETPOINTS3: Reset your character (New)
Zen1: Reroll your race (New)
Zen2: Reroll your race (New)
CashDAY: 10k Cash
Follow@ZenokeiRBLXOnTwitter: 10k Cash
SubscribeZenokeiRBLXOnYoutube: 10k Cash
ROBLOXDOWN: 5k Cash
DAVIDBAZOOKA: 5k Cash
DELAY1: Redeem for free rewards
prestigeAdjuchacar: Reward for prestiged Adjuchacar players
prestigeVasto: Reward for prestiged Vastocar players
Expired Codes
FULLBRINGERS: Reward
APOLOGIES: 10,000 Cash and Secondary Reroll
100kMembers: Shakai and Res Reroll
newSecondary??: Shakai and Res Reroll
APOLOGIES2: 5,000 Cash
OPTIMUMPRIDE: 5,000 Cash
EASTERHAPPY: 5,000 Cash
THANKYOU – 5,000 Cash
DROPSWHEN – Zanpakuto Reroll
THISWASNTHEREB4 – 15,000 Cash
5kEZ – Cash
R2DRIP – Clothes Reroll
MONEYMONEYMONEY – 5,000 Cash
BANKYAI – Skill Point Reset
NEWSWORDS – Zanpakuto Reroll
PapaJovahn – 4,000 Cash
AsPromised – 1,500 Cash
ROLLSECONDARY250 – Secondary Reroll
BANKAIUPDATERACEREROLL2 – Race Reroll
BANKAIUPDATERACEREROLL – Race Reroll
freeRealDANGAI2 – 10 Minutes of Dangai
HUECOMUNDO:RACEREROLL – Race Reroll
HUECOMUNDO:SECONDARYREROLL – Secondary Reroll
newRACEREROLL – Race Reroll
raceREROLL – Race Reroll
RELEASERACEREROLL1 – Race Reroll
freeDANGAI22 – 10 Minutes of Dangai
freerealDANGAI – 10 Minutes of Dangai
DANGAI4FREE – 10 Minutes of Dangai
COOLSECONDARYREROLL – Race Reroll
COOLRACEREROLL – Race Reroll
Roblox Reaper 2 FAQs
How To Redeem codes In Reaper 2?
To redeem the code for Reaper 2, Follow these steps: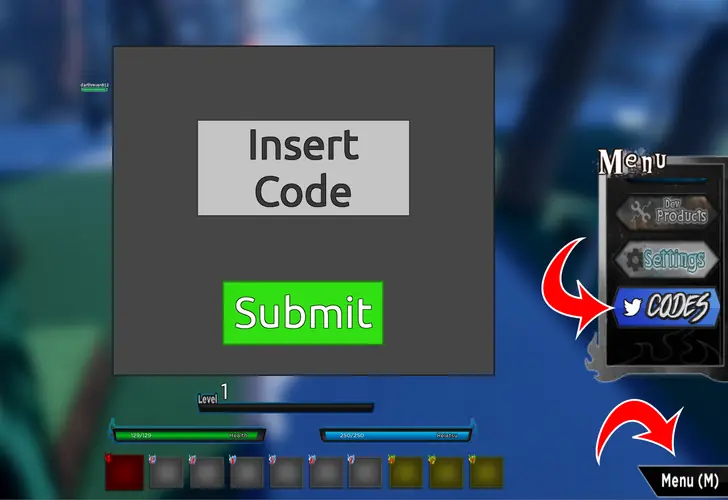 Launch Reaper 2 in Roblox.
Tap and locate the menu button at the left bottom.
Scroll down the menu, then hit the Twitter codes icon.
Input a valid code in the redemption box for codes.
Click on Submit to redeem the voucher.
Get your rewards for free in the game.
How To Get More Codes In Reaper 2?
This page will be updated with the most recent codes by the time they are released. But, you may also keep an eye on the @Yakrus4 on Twitter to receive updates. You can also connect to their Discord Discord server. However, adhere to their guidelines for community members. Press CTRL+D to bookmark this page to ensure that you don't be late for a code update if you decide to join.
These are all the codes that we have for Roblox Reaper 2. Explore our massive listing of Roblox Game Codes and Roblox Promo Codes, which you can use to obtain special offers.